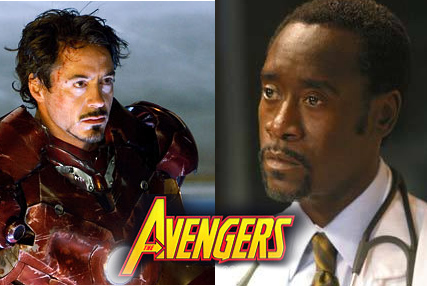 Marvel Entertainment has just announced that Robert Downey Jr and Don Cheadle have signed on for both Iron Man 2 and The Avengers. Iron Man 2 director Jon Favreau will also executive produce The Avengers. As previously reported, Cheadle will be replacing Terrence Howard as Colonel James "Rhodey" Rhodes.
The announcement also comes with the first look at a plot synopsis tease: " "In a movie event, The Avengers will bring together the super hero team of Marvel Comics characters for the first time ever, including Iron Man, Captain America, Thor, the Hulk and more, as they are forced to band together to battle the biggest foe they've ever faced." Who could that be? With Hulk on the listed team line-up, does that mean that the big green guy is out as a possibility?
Iron Man 2 hits theaters on May 7th 2010, and The Avengers hits theaters on July 15th 2011. Check out the full press release after the jump.


ROBERT DOWNEY JR. AND JON FAVREAU SUIT UP FOR MARVEL STUDIOS' THE AVENGERS AND IRON MAN 2
As part of his four picture deal with Marvel Studios, Robert Downey Jr. is appearing as Tony Stark in THE AVENGERS motion picture, as well as reprising his starring role as the larger-than-life leading character in IRON MAN 2. Jon Favreau will return to direct the sequel to the blockbuster IRON MAN, which to date has grossed over $578 million worldwide, as well as executive produce THE AVENGERS.
Academy Award® nominee Downey was most recently seen in the summer comedy blockbuster TROPIC THUNDER starring opposite Ben Stiller and Jack Black. Before Iron Man, he was best known for his film roles in KISS KISS BANG BANG, WONDER BOYS and CHAPLIN, the film for which he was nominated for an Oscar®
Original here